Sights that boggle the mind are visible each night in the clear dark skies over Southern California's Anza-Borrego Desert―colorful stars, stellar clusters, planets, star-forming nebulae, Earth-orbiting satellites, distant galaxies and more.

Treat yourself or your family to a truly inspiring and personalized tour of the cosmos above Borrego Springs—California's first and only International Dark Sky Community—with the power of a large telescope and one of America's favorite celestial tour guides. This is one journey you won't soon forget!
---
This holiday gift-giving season,
don't just promise the universe... deliver!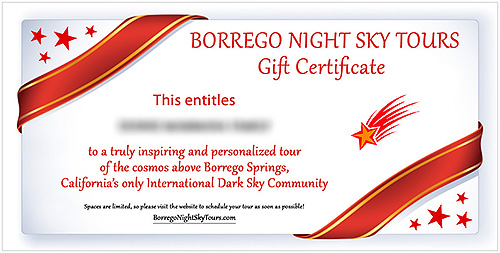 Gift Certificates are now available.
Write soon for details.
---
Guests peering deeply into the heavens through a massive telescope...
Don't delay. Available spaces are limited, and dates can book quickly!